GET UP TO
$500
WELCOME BONUS
LOGIN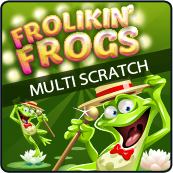 Frolikin Frog Multi Scratch
Frolikin Frogs Multi Scratch lets you hop to riches with even more chances to win! Scratch & match frogs & bugs for big bonuses.
Add to my Games
Details
Reviews
Related
Screenshot
Video
Frolikin' Frogs Multi Scratch Card
Key Features:
2 Chances to Win
High Payout
Colourful Graphics
Read more...
Frolikin' Frogs Multi Scratch Cards is an advanced version of the Frolikin' Frogs card and its advanced features make it even more fun. It features the same funny cartoon frogs as the original game and there are plenty of ways to win.
The card features one large central cartoon frog who is surrounded by five separate lily pads and you can bet between 5p and £1 and you can choose to bet on as many lily pads as you like. The more pads you choose the more your bet will cost.
Each pad has five frogs on it and you can scratch each one individually to see how much you've won. If you reveal frogs of the same colour then you win a cash prize. Frolikin' Frogs Multi Scratch scratch card is different than many scratch card games because you have two chances to win. You can win on frogs, and you can also win on insects situated below the lily pads and frogs.
The chance to pick up two prizes for every lily pad you bet on makes this game even more fun!
You need to be logged in to leave a review
Frolikin Frog Multi Scratch
was rated
5

out of

5

from

1

member reviews.
Review by
kittysmum
, 13/02/2013
Best Scratchie Ever
frolikin frogs multi is even better than the first frolikin frogs because you can win twice at each game. Its really fun and def. My favourite scratchie

Frolikin' Frogs Multi Scratch Cards Screenshot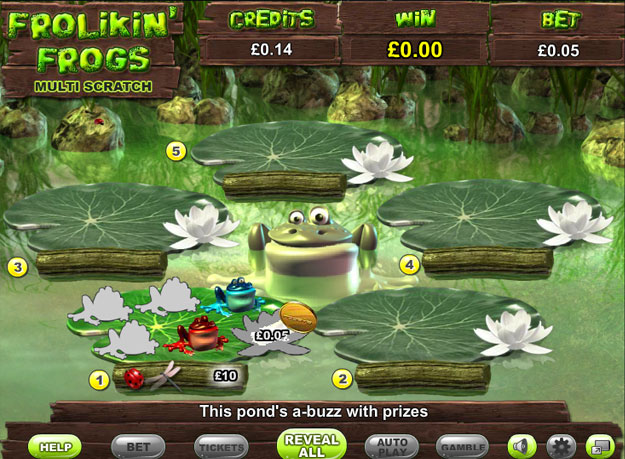 Screenshot of the game will be available soon
Frolikin' Frogs Multi Scratch Cards Video
RECENT WINNERS
Yesterday's Winnings
Progressive Slots
Millionaire Genie Slots
$

2,236,706
Nightmare on Elm Street
$

£12559.75